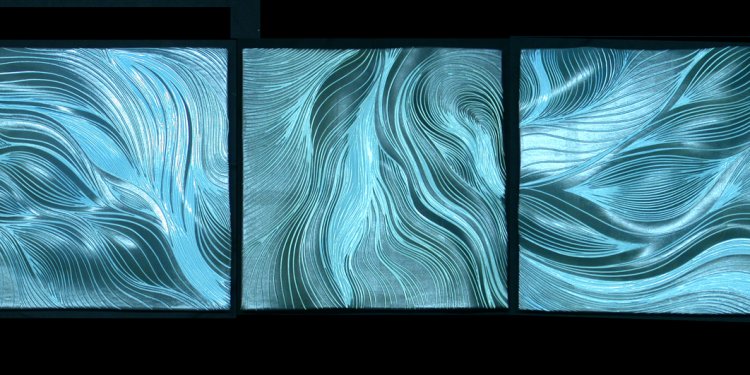 Sgraffito ideas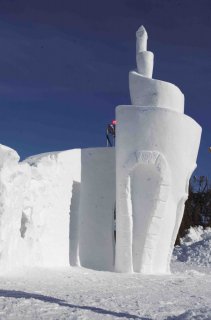 Photo: Famulari created this sculpture, "Time Arches", for a competition at the 2010 Festival du Yoyageurs. Photo by Stevie Famulari.
(Click the photo for a larger version.)
FARGO, N.D. – Plains Art Museum and NDSU landscape architecture instructor Stevie Famulari invite the public to participate in the creation of an innovative snow "garden."
Famulari is spearheading an effort to create snow sculptures for a "Winter Wonderland" display on the NDSU campus for a Fire and Ice Festival to be held Saturday, February 3, 4:30 – 6:30 p.m. Famulari is an artist who participated in the Museum's Defiant Gardens for Fargo-Moorhead symposium in 2009 and was a member of Team USA in the snow sculpture competition held at Winnpeg's Festival du Voyageur.
Anyone can participate. Participants are encouraged to form a team, develop a unique design, and submit their plan and model by November 15. Sculptures and structures will be built on the NDSU campus near the Student Union. The proposals will be judged by Famulari and Museum Director Colleen Sheehy. Winning entries will build their sculptures in late January/early February.
Plains Art Museum is located at 704 First Avenue North. It is accredited by the American Association of Museums and is a nonprofit, regional fine arts museum with plans to significantly expand its programs through its "Little Artist in All of Us" campaign. The campaign is raising funds for the Center for Creativity and Lifelong Learning which includes working with Fargo Public Schools and other educational entities to build teaching studios. The campaign is also strengthening operations by enhancing the Museum's endowment and visitor services.
Museum programs are made possible, in part, by major funding from members of the Museum, The FUNd at Plains Art Museum, the cities of Fargo, Moorhead and West Fargo through The Arts Partnership, The McKnight Foundation, the Minnesota State Arts Board through an appropriation by the Minnesota State Legislature, the North Dakota Council on the Arts through an appropriation by the North Dakota State Legislature and a grant from the National Endowment for the Arts. More information is available at 701.232.3821 or at www.plainsart.org.
agudah charidy
phd scholarships
brightspace mun
crowdera india
formal education
incubative entrepreneurship
liberal arts degree
ignou hall ticket 2021
crowdcube uk
political crowdfunding
ano ang entrepreneur
five entrepreneurial strategies
work at a startup
iti electrician
crowdfunding upsc
entrepreneur personality
bsc
pharm d course
alice startup
bizhare crowdfunding
online class
lonely entrepreneur
eprenz
enterprise auto rental
llb course
spiral curriculum
upper primary
explain the types of entrepreneur
enterprise stafford
sequoia surge
best international crowdfunding sites
online courses with certificates
enterprise car rental
enterprise monthly rental
ketto fundraising
best real estate platforms
Share this article
Related Posts