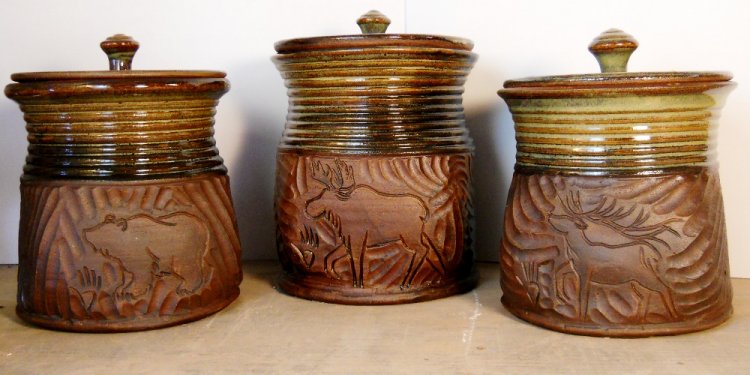 Slab built Pottery projects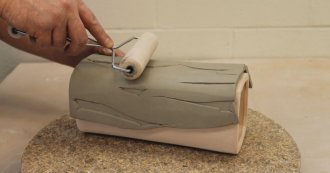 Jeremy Wallace used to throw and carve his textured pots, but he discovered that slab building them in layers gave him a more organic quality, which was the look he was after.
In today's post, an excerpt from the Ceramics Monthly, Jeremy shares how he makes a textured slab-built cylinder. It's a great slab clay project that could be turned into a mug, a vase, a jar or any other vessel you can dream up! – Jennifer Harnetty, editor
P.S. Learn how Jeremy turns this cylinder into a tea jar and read about his glazing and firing processes (which includes a flashing slip recipe) in the Ceramics Monthly.
Slab Building with Layers
by Jeremy Wallace
For as long as I have been making pots, I have been interested in creating vessels with multiple components. The potter's wheel was my introduction to clay, and most of my early works were wheel thrown and altered. My decision to start handbuilding exclusively was the result of both a natural progression from throwing and altering as well as my desire to incorporate more surface texture in my work. As this texture was originally influenced by the way clay stretches, cracks, and tears along the edges of a freshly rolled slab, the transition to slab construction came naturally to me. Handbuilding with slabs allows me more opportunities to experiment with form and work with various processes. New forms and adjustments in the scale and proportion of classic vessels have evolved from keeping a regular studio practice and my desire to constantly revise and make better functional pots.
Not only can you read all the great articles from the April issue of Ceramics Monthly, but you can also access ALL back issues from the 63 years CM has been in print in the online archive. All access also includes a fully optimized HTML web version that looks great on a phone, the Tablet Edition (in the App Store and Google Play), and the beautiful Print Edition that we all know and love! All this for just $49.97! ($104.93 when purchased separately).
Share this article
Related Posts