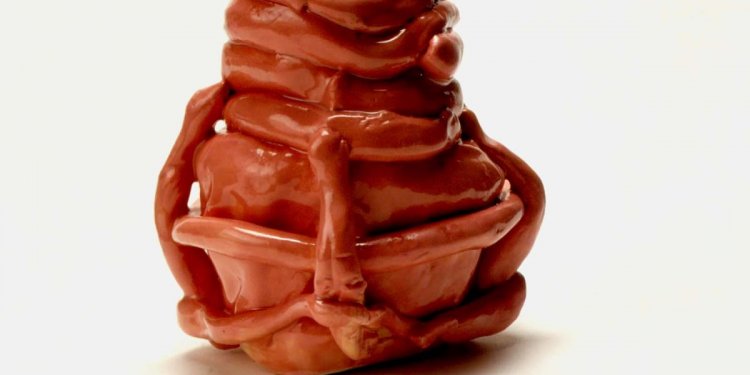 Pinch pot techniques
In many ways, making pots is drawing three dimensionally; creating a handle, a spout, or a profile of a pot, is like creating a line in space. Drawing on paper trains your eye to see more thoughtfully and be more critical of your work. I found that after sketching things like spouts and handles repeatedly, I saw a significant difference in the ease with which I could create them. The simple gesture of putting pencil on paper several times to get a form right made an immense impact, solidifying how my hands needed to move to create that element in my work when it was time to actually build it in clay. The other reason I now see the importance of sketching is that my hands and fingertips need to be in tune with the physical and/or mental image I'm creating. I use very few tools to shape my work (figure 1). My fingers and my lap are my biggest tools and I sometimes even use the slack of my apron in my lap to help shape larger slabs that I'm pinching into a form. So, I always start with a drawing of the form, and I always have that image present when I'm making objects.
Beginnings
To begin the form, I pinch out a small curved disk to use as the bottom to create a foot. I enjoy surprising users when they pick up my pots and find that the bottom is convex rather than flat. To pinch a curved disk, start with a round ball of clay about the size of a plum, pushing your thumb into the middle of it, leaving about half of an inch of clay between your thumb and the outer wall (figure 2). Then, create the proper thickness by pressing a thumb into the clay, proceeding to rotate the ball in small.25 inch, counterclockwise increments, slowly working to the outside edges until each area is uniform in thickness (figure 3).
Creating Coils
It would be difficult to create an entire form by simply pinching, so I add thick coils to help shape and add height to the work. To make coils nice and round, start shaping the coil while wedging the clay. Begin wedging and slowly shift from wedging to rolling the clay into a thick log shape about 3 inches in diameter. From there, pick up the log, squeezing and twisting it into a slightly thinner log, roughly 2 inches in diameter, which also helps to compress the clay further. Make sure it's uniform in thickness, then slowly start to roll out the coil, using your entire hand, held flat, rather than just your palms.
Gently but firmly apply even pressure onto the surface of the coil, keeping your hands as flat as possible, yet relaxed, gliding them over the surface, starting in the middle and working your way out to the ends. If at any time the coil starts to become uneven, simply pick it up, reshape it, and squeeze it into shape. Be careful not to let your coils get too thin—coils should always be thicker than the wall thickness you want on your work. This is the biggest misconception in creating coils. Some clay will be removed in the processes of attaching the coil and creating height. So, to achieve a wall that's .25 inch thick and roughly 1.5 inches high, use a coil that is approximately 1 inch thick.
Share this article
Related Posts