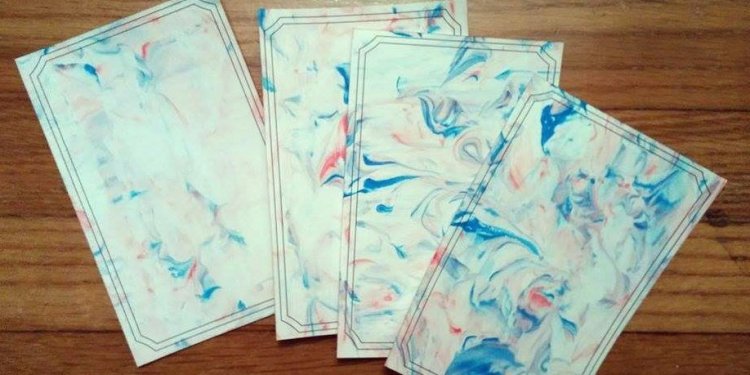 Leanne McQueen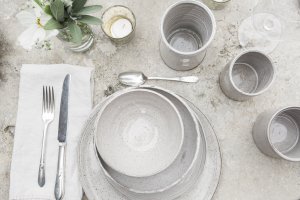 You fell in love with table settings as a child, but what inspired you to pursue pottery as a career?
My grandma and mother always had the china hutches full of cups, saucers, plates and serving pieces, and I loved to rifle through them and find my favorites. As a child, I never sat still and was into everything, so to tame my wild spirit, my mom put me in every activity she could. I remember taking pottery classes in the summer at the University of North Dakota when I was 8 or 9 and loving the responsiveness to the material and how physical it was. That was my first interaction with clay. Fast forward 10 years or so, and I was taking a class on the pottery wheel [in college]. At that time, I thought I wanted to study painting, so I was taking all of my studio art classes to fill my requirements for my Bachelor of Fine Arts degree. I wish I could say that I sat down at the wheel, and BAM, that was it. Nope, I was awful at it. Clay is something that takes patience, and at 19, that was something that I lacked. I scraped my way through the course, and towards the end of it I got to help and watch the kilns being fired. And that was it — I loved the technical aspects, the preciseness, the fire. I knew that was what I wanted. After graduating with my BFA in ceramics, I opened up my studio.
So how did you transition into entrepreneurship?
After graduating from college in 2009, I was making my way in the world as a potter (not an easy feat) in an old brownstone building that I bought in downtown Maryville, TN. The top two floors were apartments (my husband and I lived in one and rented the other), and the bottom was an old barbershop with five sinks. To say the least, it was perfect for pottery. Then, in 2012, after three years in the old shop, an opportunity came along that I could not pass up. I had just made the decision to go back to graduate school when my neighbor told me that the printing shop next door (that had been there since the '60s) was closing its doors. They wanted to know if I wanted the space. I had already planned to go back to graduate school, but I talked about the new opportunity with my husband and decided that I needed to do it. My small shop of 750 square feet was being upgraded to a studio of 3, 750 square feet. We thought I would pour everything into it for five years and then re-evaluate after that. I opened up the teaching school of Studio 212 in 2012 and founded McQueen Pottery in 2014. I am never looking back.
It sounds like you fell into the role of entrepreneur. What have been some of the most difficult — but necessary — business lessons you've learned along the way?
Definitely time management. I would say I am on the wheel, creating, about 40 percent of the time, and the rest of the time is split between paperwork, invoicing, client relations and publicity. It is VERY hard some days to pull myself away from creating to do the "big girl side of the business, " as I call it.
Notoriously, entrepreneurs have a difficult time balancing their business and personal lives. How do you ensure that your work doesn't take over?
I have a wonderful husband, Mike, who keeps me grounded and pulls me in once in awhile when work is starting to take over. I sometimes need a separation from the business so I don't get burned out, and I know my family needs me also.
What is the best piece of advice you can offer for other women who are considering entrepreneurship?
Just jump in. I think that the hardest and the scariest part of starting any business is taking the initial steps. Yes, it takes time. Yes, there is a learning curve. But if you focus on pride, growing slowly and consciously, and surrounding yourself with people you respect, it is the most rewarding thing anyone could ask for.
How does living in the South impact the work that you do now?
I definitely think the South inspires my work, and I am grateful for it. Food is the center of family and fellowship here. From attention to the centerpieces, to the hours put into food preparation and the elaborate table settings, the Southern dinner party is an experience that is hard to match or describe.
Share this article
Related Posts