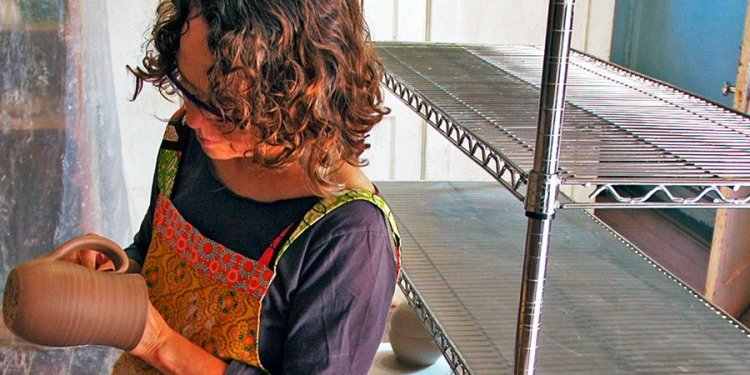 Handmade Coffee Mugs Pottery
Check out my Etsy feature here...
______________________________
A little more about my process:
Everything you see here in my shop is handmade by me from beginning to end. I work in batches which typically take about 4-6 weeks, this is why my "made to order" listings say they will take 4-6 weeks to make.
First I will take about two weeks to throw all of my work here in my studio in my little one car garage. This includes throwing, trimming the bottoms, pulling and attaching handles, etc. Anything having to do with the shape of the planter, vase, plate, bowl or mug. After the work is thrown and completely dry I fire it in my kiln in my garage for its first firing called a "bisque". During the bisque all of the water is removed and the pot becomes much stronger making it easier to handle for the next step.
After they cool down I can take the pots out of the kiln and do any decorating. I typically will decorate for about one week here at my house. This is when I draw on the patterns with underglaze, do any brush work or splattering, or use wax resist to get the raw porcelain affect you see on my black mugs and planters.
Once everything is decorated I pack it up and take it to the ceramic guild I belong to in Arvada, CO where I spend one full day glazing all of my work. I make all of my own glazes there so if I need more glaze I will measure out all of the ingredients and mix up a new batch. Once everything is dipped in glaze and the bottoms are cleaned off I put them all into the electric kiln there at the studio for their final firing. Two days later, when the kiln is cooled down, I will go back into the studio to unload the kiln and bring everything home. After that I will take about one week to take any photos, update my shop, and ship all of the finished pots off to their new homes!
______________________________
A little more about me:
I'm a ceramic artist living in Denver, Colorado and all of the work you see here in my shop is made by me in my garage I then take it to a ceramic guild I belong to for glazing and firing. I graduated in 2008 from Bowling Green State University where I got a BFA in glass and ceramics. After graduating I did some wandering around, lived in Costa Rica for a while, became a yoga teacher and then settled in Colorado where I started making again! I now live here in Denver with my husband, baby and pup turning my love of ceramics into a full time gig.
There is something wonderful about holding something handmade. It's hard to put into words but we all know that feeling. I think it's a pretty good feeling. My hope is that these pieces will be fun and functional and bring a little happiness into your everyday activities like serving a meal or having your morning coffee. I enjoy the whole process of making things out of clay, from throwing to trimming to decorating. I hope that the amount of joy that I get from making these pieces from beginning to end comes through while you are holding and using them in your everyday life.
It makes me so happy to know that these pieces that I've put my time and passion into make their way to good homes where they will be loved.
______________________________
Follow me on facebook...
Follow me on instagram...
On Instagram use #mmpathome and #melissamayapottery with pictures of your Melissa Maya Pottery mugs, planters, dishes, etc. in use. I love seeing them in their new homes!
______________________________
Want to learn even more about Melissa Maya Pottery? Check out my interview with Rebecca at Rebel Roads for her "Makers Gonna Make" series...
______________________________
Thank you so much for supporting this small business!
Enjoy!
www.melissamayapottery.com
Tweet
Share this article
Related Posts