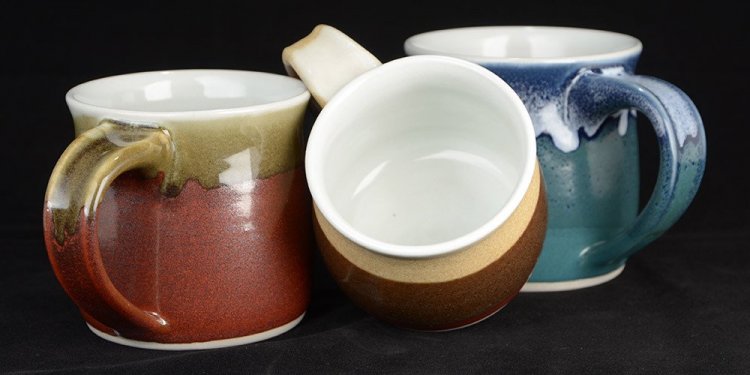 Handmade Coffee Mugs
Glaze:
Industry:
(We work with many different industries)
We are super excited to announce a new handmade mug style – The Tall Belly!
With the popularity of the Ramsey at 14 oz. we decided that another larger mug was needed for our line-up. We hit the drawing board (with our thinking caps on) and started to explore a larger curvier something. As the discussions continued, it made sense to see what a taller version of the Round Belly would look like – after all, it is our most popular mug style! Yes, the Round Belly is a beautiful mug, but sometimes 10 oz. just isn't enough…especially on those Monday mornings when you really need a BIG cup of coffee.
Drawings were drafted, curves were perfected and tools were created. We tapped Master Potter Jon C. for the distinguished job of producing the prototypes since he was the creative force behind the Ramsey. After a larger handle was attached and the retro Deneen Pottery emblem was applied, we watched the mugs move through production eagerly anticipating the opening of our glaze kiln.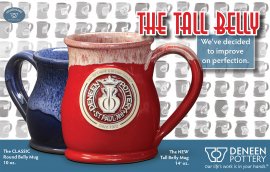 Finally, when the kiln cooled down to 500ºF, we swung open the door to reveal this brand new handmade mug! We instantly agreed that this was a keeper – the mark was hit and now we needed to get the news out! The capacity was bigger than we anticipated and when we filled it with water it actually holds about 15.5 oz right to the brim. It's now clear that the Tall Belly is the largest Signature Mug™ style that we have ever created!
I've been enjoying getting to drink from my new Tall Belly all week. Our team did it again by looking inward for inspiration and improving on something we thought was already perfect!
We've got a postcard in the works that will arrive next week to let all of our customers know about this new style, but I wanted to let you know IMMEDIATELY via this newsletter. What we are most excited about is which customers will be the first to order!
Share this article
Related Posts