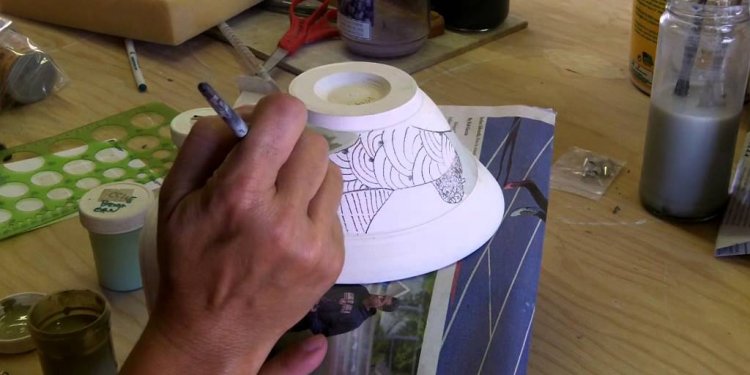 Clay techniques
Bits of fresh, plump flesh are falling to the floor. There's gouging, scraping, slicing, yet the victim absorbs each punishing wound with stoic silence.
Probably because his mouth hasn't been carved yet. And also because he's a pumpkin. A pumpkin that now bears an intricate skull face, speed-sculpted in 12 minutes on the kitchen table of James Hall's Alameda apartment.
Hall, 36, is a sculptor of more permanent things, too, usually starting in traditional clay — from large monstrous creatures to delicate tea sets. But he's carved out a neat niche for himself, gouging humble gourds into fierce faces, swirls of scaly dragons, graveyard scenes and even the shriveled visage of Darth Vader, sans helmet. For years, he's been winning online contests (his favorite title so far: "Bob Vila's King of Carving").
"That one's just fun to say, " Hall says, wiping sticky pumpkin goo from his hands.
And now his mad skills with sharp knives have landed him on this season's "Halloween Wars, " 9 p.m. Sundays on the Food Network, in which six teams — composed of a pumpkin-carving pro, a cake artist and a sugar artist — build edible Halloween-themed displays for a chance to win a $50, 000 grand prize. (One of the judges is Elvira, apropos of the season!)
Hall won't tell us if his team squashed the competition, of course. But he did agree to spill some of his best tips for us regular folk, to help create something beyond your run-of-the-front-porch Jack-o-Lantern:
Pick a perfect pumpkin
You want a flat bottom for stability, and a nice fresh pumpkin with no soft spots. But it doesn't have to be a beaut. "If you get a weird shape, or a warty one, work with it – make a warty witch or monster, " Hall says. Otherwise, search for a shape that fits your plan. "Like if I'm doing, say, a lion head, I want a base that juts out to give me the general form. That saves a lot of time."
Also thump the pumpkin for a solid sound. You want thick walls so you have a lot of meat to work with, especially if you're merely sculpting the outside and not cutting all the way through.
Be willing to let it go
Before you get carried away, remember this is just a pumpkin! In the way of other transitory art, like sand castles or culinary creations, your masterpiece will be reclaimed by Mother Nature soon enough. A carved gourd will last maybe a week at best, if you treat it right (more on that later). "But that's OK. This kind of art teaches you to let go of stuff, " Hall says. "There's something healthy about that."
Tools
You can buy special pumpkin-scooping and carving tools. Or just improvise. Hall has a small tool box full of all manner of implements he's either purchased, repurposed or fashioned from found items. He uses sharp knives, of course, plus a drywall saw – with a small grater-type head – to "skin" portions of a pumpkin for a blank canvas. Then he employs some ceramic-clay sculpting tools, various blades, "old pieces of a hack saw, rasps, bits of sharpened paper clips turned into loops, " he says. "Basically, if you look at something and think it could be a tool, it is."
See also:
Share this article
Related Posts