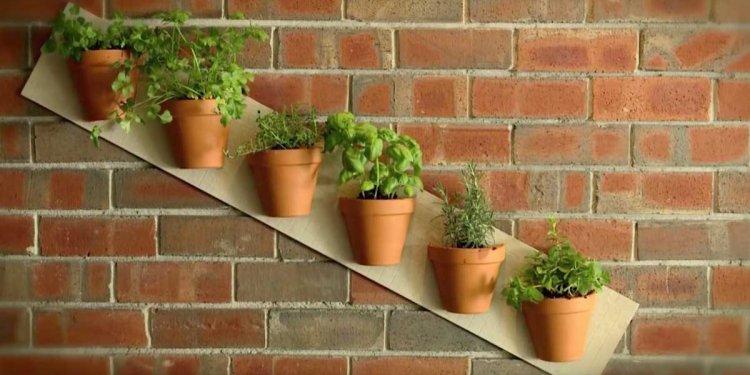 Projects with clay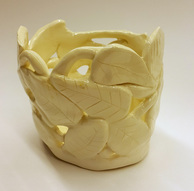 Clay Drawings: [Design, Problem Solving, Engineering]
Katharine Morling's Ceramic Sculptures Look Like 3D Line Drawings. Using white body clay and an underglaze pen she creates these lovely pop inspired works of art with everyday objects as her subject. Certainly any subject could be explored in this way, animals, environments, architecture, etc. It may be a great way to combine drawing lessons with clay projects. Slab techniques and simple non-glazed forms make for an easy, low budget project. See more examples of her work HERE, and her personal website, HERE.
Clay for a non-ceramics class:
We have a ceramics department, so I try not to "get in the way" of what they do, but I feel it's important to expose my sculpture students to clay as a sculptural option. We have done wire, wood, plaster, metal, found objects, and more, but I like to include clay in one project. Because it's a one-off project I do not buy a lot of colors, we just use clear and push the idea of form and texture.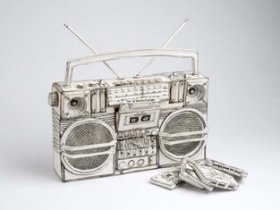 In the past I have done memorial pinch-pot bells, with symbols and shapes for someone who has passed or to commemorate a future event you hope to achieve. They always come out well, but I wanted to switch it up a bit.
They created 3 sample pinch pots before the project was presented. One a bit more challenging than the last. Each was recycled and wedged back into raw clay. They learned to slip and score to attach pieces along the way. Once the basics were understood the assignment was to make a cup that was surreal or expressive in some personal way. It did not have to be functional, and could be designed in such a way as to be completely unusable.
The results were fun, playful, and broad. No cookie-cutter cups here.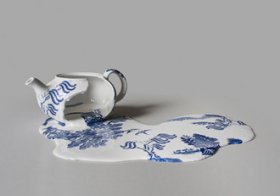 For many of these students it is their first art class since elementary school, most never used clay before, but the exposure was worthwhile and I think a few might try ceramics next year.
Re-invent the Mug:
[Design, Problem Solving, Engineering]
Re-Think the mug and play with it's design elements: Handle, form, shape, color, design, and think of a new way to enjoy a hot cup of tea, coffee, or mug of milk! Maybe you can select a theme to work from: holidays, sports, hobbies, mugs that express your personality...
Image samples from Architecture and Design website.
Melting Pots: [History, Cultures, Pattern, Surrealism]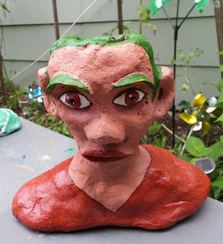 Based on pottery by Livia Marin, students can alter shattered work to look like it was purposeful in an exploration of pattern and surrealism. Though one could design a pot from the beginning like this, there are enough accidents to try this out as it happens. This can be a side project to be done when the opportunity arises.
Pay close attention to rounding edges of the puddle, and stretching/altering patterns to look like they have been melted.
Self Portrait Planters:
[Biology, Plant Science]
Disclaimer: We did this with plaster bandages, as we do not have a kiln at camp, but would have preferred clay. To make this with clay, we would have created 2 pinch pot cups, slipped and scored bottom to bottom in an hourglass configuration, open ends at the top and bottom. One cup would be the head, the other the body, and the connection the neck.
Students created self portraits as planters, some decided to make a zombie version of themselves knowing they would have green hair. We added potting soil and grass seed to be watered at home. We also capped the tops with a little paint cup, so it would not spill when being transported home.
As a plaster project, we used a plastic cup inside the head, wrapped it with lose aluminum foil, and formed that into a face. Plaster bandages were wrapped over that, smoothed, and a base coat of paint for the shirt and skin tone were added. The next day details were painted in.
See also:
Share this article
Related Posts