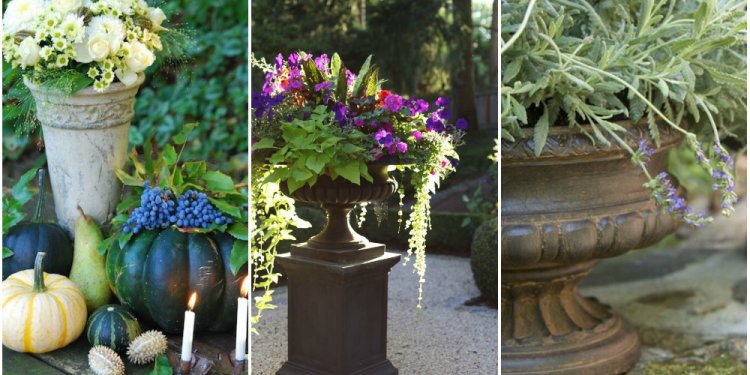 Pots design ideas
All you add is water. That's pretty much what it takes to become a successful container water gardener. Incredibly, small pots filled with water plants take care of themselves most of the time, as long as you keep adding fresh water. The plants, still in individual pots, derive most of their nutrients from the garden soil they're planted in. Can you think of a more ideal way to garden?
In truth, you do have to do a few things from time to time in addition to adding water — keep on the lookout for algae, prevent mosquitoes from using the little garden as a trysting place and scrub out the pot. But when you think of it — there's no ground to till, no weeds to fight, no need to add mulch and compost. Sounds good to me.
Water in a garden of any size creates an oasis not only for you but also for birds, butterflies, dragonflies and even small fish. Pond pots, sometimes referred to as "still pots, " nestle nicely in small spaces such as balconies or decks but they can also be tucked into nooks and crannies in spacious gardens. All that's needed is a small non-draining, non-porous pot and a few water plants. A pond in a pot can be a terrific first gardening effort for children.
It's no surprise that you'll need a pot that holds water. Many pond pots are made of ceramic, plastic, sealed cement, porcelain or metal. Old crocks and wash tubs, plastic pots also make excellent pond pots.
Be creative when selecting a pot. Even an old-fashioned clawfoot tub can be adapted for a big pond-in-a-pot.
Avoid using wood containers, such as wine and whiskey barrels, as they may contain bacteria that are harmful to plants and fish. If a wood container is just what you've been dreaming of, line it with a heavy-gauge plastic bag or a pre-formed plastic liner.
The size of your pond pot depends upon the size of your space and the number of plants to be inserted into the pot. Four to five plants fill a pot that is about 16 inches in diameter and about 12 inches deep. However, even one small water plant in a corresponding decorative pot can invite harmony.
Pond pots are created by utilizing the various types of water plants- floating leaf aquatics, oxygenating grasses, bog and marginal water plant species. They all thrive in water but have different growing habits and water depth requirements.
Floaters. Floating plants such as water hyacinth and water lettuce help reduce algae in the water garden. Water hyacinths reproduce rapidly; you may need to cull some of the plants from time to time. If you live in a warm climate, don't throw water hyacinths into open water such as canals, ponds, etc.; it's an invasive plant.
Oxygenating grasses. Most oxygenating grasses grow submerged deeply in water and either sit at the bottom of the pot or float on the water's surface. Oxygenating grasses help maintain the proper pH balance of the pond pot's water. Examples: anacharis (Egeria densa), fanwort (Cabomba caroliniana), feather grass and blood grass.
Bog plants. Water in the pond pot should just cover a bog plant's soil. That's because bog plants grow naturally in shallow water at a pond's perimeter. In a pond pot it may be necessary to set bog plants on top of rocks or small inverted pots to create a more shallow water environment.
Share this article
Related Posts